Looking for hope and meaning in life? Two thousand years ago, Jesus said, "I have come that they may have life, and have it to the full." This statement is valid for us today!
a FRIENDLY place where you are welcome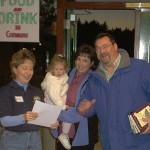 Here at Living Hope, we'll make sure the first face you see when you approach the church has a smile on it. Whether you need child care or are looking for a place for your teens, a greeter will be nearby to help you get where you need to go.
a RELAXED casual atmosphere
But don't worry about what you are wearing. We're more concerned with meeting your real life needs than with what you wear. So, dress casually and enjoy our upbeat music. Living Hope gives practical messages that help you deal with real life issues. We'll even give you a handy outline with the Bible passages. What you learn on the weekend, you'll be able to use during the week.
a SAFE place for your preschoolers
Our Early Childhood department is a safe and loving environment for children birth through five years. Leaders give special care and attention to each child who is entrusted to them during the worship service. Jesus' love, radiating from our Kidz Zone leaders, helps your children feel church is a happy place where they are loved and secure.
a FUN place for your kids
Every weekend, kids are greeted as they enter classrooms by our warm and friendly team of Kidz Zone leaders. They'll hear Bible lessons presented in interactive, creative ways so they'll be able to apply those truths to their lives. Your kids will sense the love of God coming from dedicated adults who are committed to serving Jesus by leading kids.
a COOL place for your teens to connect
God has a purpose for your teens! They don't need to wait until they are adults to make their life count! Whether your teen is in high school or junior high, we'll bring a biblical message of hope and challenge to them every eek. We offer an exciting church experience geared specifically for either your junior high or high school teens.